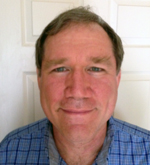 Michael Morelli, Ph.D.
Lecturer
316 Armitage Hall, Room 316
311 North Fifth Street
Camden, NJ  08102, USA
Phone: (856) 225-6786
Email: mmorelli@rutgers.edu
About Dr. Morelli
Dr. Michael Morelli received both his B.A. and M.S. degrees in Mathematics from the University of Cincinnati.  His Ph.D. in Mathematics was earned at the University of Nebraska-Lincoln in 1996 in difference and differential equations.
He is currently enrolled in Mathematical Finance Program at Rutgers University (New Brunswick). He works in elliptic partial differential equations and Lie groups with Dr. Paul Feehan, the director of the Mathematical Finance Program. In addition, he is a Spanish major at Rutgers University – Camden.
While working as a system engineer at Lockheed-Martin, Professor Morelli taught a wide variety of math courses to computer scientists and engineers.  His math academic career has included Indiana University, Central Michigan University, the University of Wisconsin, and Rowan University. 
Activities
Member of INFORMS (The Institute for Operations Research and the Management Sciences), New York City chapter

Member of ISDE (International Society for Difference Equations)

Member of AEA (American Economic Association)
Course Information
50:220:398 Government Regulation of Business
50:220:442 Public Finance